Every fashionable clothes and accessories that you use in your day to day life or for a special occasion has a story of its own. Its origin, history and evolution matters a lot. Because if you know the history, you tend to value that item more. When it comes to dresses, every dress has a story of its own. Patchwork dungarees, patchwork skirts or any dresses of different styles and designs, tell a unique story that make them more special. So whenever you are wearing a dress, make sure that you know the exact history of that particular dress. If not completely, you should at least be aware of some of the important facts about that particular dress. In this article we shall be looking at the origin and evolution of tie-dye fashion.
Tie-dye fashion has a very enriching history. This fashion has evolved over time and the contemporary tie-dye fashion is the first choice of every woman out there. You can buy tie-dye clothes and accessories online as well. Jordash Clothing is an online store where you can buy different types of tie-dye clothes such as tie-dye skirts, tie-dye dresses and other different styles of outfits such as gothic outfits, patchwork dungarees, patchwork skirts and so on. You can also buy different types of fashionable accessories such as gothic accessories and jewellery from this store.
Let us now have a look at the history and evolution of tie-dye fashion.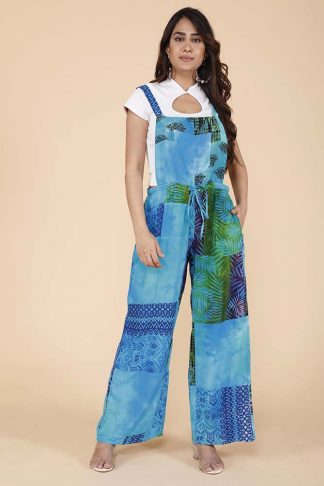 The Origin of Tie-Dye Fashion
The earliest known example of the tie-dye fashion is the one that was found in Peru between 100 to 200 BC. It was also found in ancient China between 5th century to 6th century AD. Its origin can also be seen in other countries such as ancient India, parts of Africa and Japan. In India Bandhani outfits are the most famous tie-dye outfits that have evolved over time. Bandhani dots are a tie-dye technique that could be seen in the paintings dating back to the 6th century, depicting Buddha and his life; it is found on the wall of one of the caves in Ajanta. This tie-dye fashion is still popular in India and it is found in many Indian attires and western attires in India, such as sarees and tie-dye skirts respectively.
Shibori is another most famous tie-dye technique that is popular in Japan. It has its origin in China but it became immensely popular in Japan between 17 century to 19 century during the period of Edo. During this period, lower class people started wearing clothes in silk fabric that used to come with Shibori tie-dye technique. Though it became popular during this period, its existence dates back to the 8th century. The Shibori tie-dye technique is primarily done with the shades of indigo colour.
West Africa has also been popular for tie-dye clothing in the shades of indigo for a long time. In fact it is believed that this tie-dye technique in indigo colour has its roots in Kano, the ancient trading city of West Africa. Since then, the tie-dye outfit has been one of the most popular outfits of this region and with times, it has successfully adopted a new and contemporary look.
The Tie-Dye Fashion and Hippies
The trend of DIY became famous with the rise of hippie culture. This culture is inspired from the eastern and exotic cultures. So the tie-dye technique in the hippie culture got its inspiration from exotic cultures. It is believed that in the mid 1960s, when the volunteers of the Peace Corps returned from West Africa, they brought the famous tie-dye fabrics of that place back home and introduced it to the people of hippie culture. From then on, tie-dye clothes such as tie-dye dresses, tie-dye skirts and so on have become famous among the people of this culture. It became immensely popular because this technique is easy and can be performed at home as well. In short, tie-dye technique is creative and cost effective and makes you look fashionable and stylish. It is because of this reason, this fashion became famous even with the housewives in the 1970s.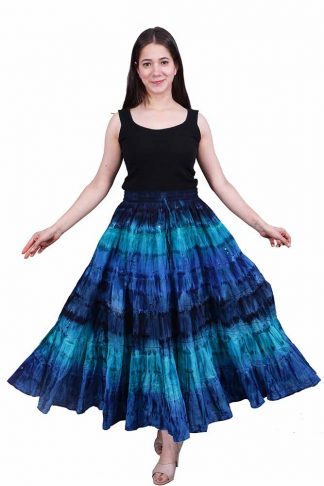 Contemporary Tie-Dye Fashion
Tie-dye fashion has evolved a lot over time and it has remained on and off trend. Contemporary tie-dye fashion has gained recognition again and the COVID-19 pandemic has a major role to play in this. During the time of pandemic in 2020, when people were home quarantined, in order to pass their time and develop new hobbies, they started taking interest in certain creative stuff. It was then, they started using tie-dye techniques to give a new and stylish look to their dull and boring outfits. So with the pandemic, tie-dye clothes started emerging again. Not only tie-dye fashion, many other old and retro fashions also evolved and came into existence again with some contemporary twists. So today you will find tie-dye skirts, patchwork skirts, patchwork dungarees and so on in trend again.